The Beginner's Guide to Hammock Camping
Finally ditching your tent for one of our badass hammocks? For your guide to the best beginner's guide to hammock camping, check out this post from Serac, or keep reading below for a synopsis what you need to know...
The benefits of sleeping in a hammock vs. sleeping in a tent might be better than you would expect. The indigenous people of Latin America have used hammocks for decades. In the past, the Navy has replaced their cots with hammocks on their ships. So why are people hesitant to camp in one? 
Many people fear that sleeping in a hammock would be uncomfortable, cold, or would lead to 1,000 bug bites. However, if you take the necessary precautionary steps before literally spending the night under the stars, you will set yourself up for the best night sleep in nature that you could ask for!
Hammocks vs. Tents
My guess is that if you're reading this post, you've probably spent some time in a tent. While they can be a great asset to your adventure, they do have a few drawbacks. Sleeping on the ground can be uncomfortable. Bringing a mattress helps ease the (literal) pain, but that's not always practical if you're hiking to a campsite. Finding a flat, comfortable, open space for your tent while also being away from potential rain runoff can be challenging. Setting up a tent is the LEAST enjoyable part of camping (in my opinion). Tents can be heavy, bulky, and expensive. 
Cue: portable camping hammocks. While hammocks leave you more vulnerable to mother nature's elements, they also offer some truly magical benefits that you just don't get with tents:
Hammocks have no direct contact with the ground, making them much more comfortable to lie in than a tent floor
If you add the right accessories, a hammock can protect you from the cold, rain, bugs, or anything else that may concern you. Except for drop bears. 
Hammocks are lightweight and portable, meaning you can easily bring it along on any adventure you go on
Setting up a hammock is much easier, faster, and intuitive than setting up a hammock
A good hammock is much less expensive than a tent 
There's absolutely NOTHING like sleeping in the open air, under the stars, surrounded by nature
That being said, hammock camping definitely has its drawbacks..
While double hammocks are great and fairly spacious, it's much more comfortable to sleep in your own hammock
Hammocks have their obvious lack of privacy. I wouldn't recommend trying to rock the hammock if you know what I mean..
If you're going to sleep in a hammock, make sure you have a rain cover for your backpack...it can go under your hammock, but there's always a good chance it gets wet
While you don't need to rely on flat ground, you do need to rely on some good trees...while these should be easy to find in mother nature, you'll need to be on the lookout as you go explore
Sleeping in your Hammock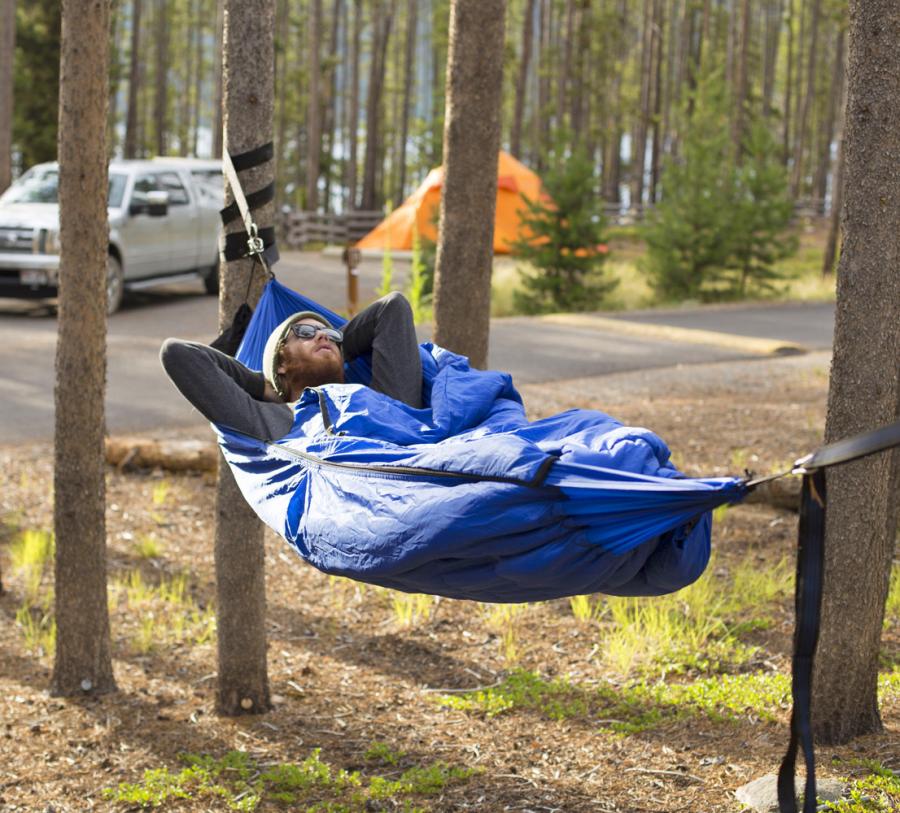 Sleeping in your hammock is actually more comfortable and versatile than you think. When you lay in the hammock, your body weight pulls the hammock tight on both sides to create a sort of cocoon around you. This will set you up for a secure, comfortable hang. 
Luckily, I have come to find that you're not restricted to only sleeping on your back in a hammock (I have the WORST time trying to sleep on my back). Once you have the hammock properly setup and you're nice and snug, you can move into all sorts of positions. 
Battling the Elements
I get it, you're a little skeptical of ditching your tent to sleep in your hammock. Let this be a quick guide to answering all of your doubts about how you can survive (and thrive!) in your hammock setup.
Staying Warm
Sleeping Bag - A traditional sleeping bag and sleeping pad combo works just as well in the air as it does in your tent. However, it does get a bit cold underneath the breathable nylon hammock material. To address this, get a cheap foam pad (or inflatable pad) that will help keep you warm. 
Under Quilt - for those seasoned, hardcore hammockers, the best form of insulation comes from an under quilt. These provide an insulating layer beneath your hammock that will keep the cold air from creeping through the bottom of your hammock. And for maximum warmth, add a top quilt to go along with it.
Fighting Bugs
No one likes being the victim of a hungry mosquito. If you're going to be exposed to the insects of the night, there are various bug nets that are designed for this purpose exactly. With one of these, you will get 360 degree protection...it's like your own hammock bodyguard. 
Bad Weather
We can all agree that a hammock is best enjoyed in sunny, temperate weather. However, with the right equipment, you can use your hammock in all weather conditions. 
Rainflys can provide you a sturdy shelter to protect your hammock from the elements. There are several options to choose from, but any one of them will protect you and your hammock from the elements. 
You can use just about any tarp to create your own rainfly. Simply create a ridgeline above your hammock to suspend the tarp, drape the tarp over the ridgeline, and tie the tarp in place with a cord or hook on either end. 
Summary
Sure, sleeping in a hammock isn't for everyone. But you'll never know until you try. And at the very least, a portable camping hammock is a perfect addition to any adventure you go on - whether hiking, camping, or hitting the beach (with palm trees of course). And trust me, you've never truly enjoyed a nap if you haven't napped in a hammock in the great outdoors. 
The Active Roots camping hammock, with its lifetime money-back guarantee, is a great way to test out the hammock lifestyle. At the very least try it out...you just might like it.